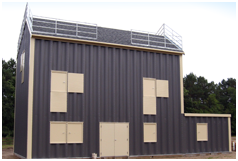 The WHP Second Alarm Series-Extended consists of a two-story residential/industrial unit attached to a single story annex. It affords training opportunities well suited to firefighters protecting areas that include multiple room configurations (as office spaces) and/or large open areas (as storage facilities). Standard features include 10 single windows, 1 double window, 4 single doors and 1 double door. The RESIDENTIAL/INDUSTRIAL section includes a 4′-0″ attic space with an attic access hatch and 2 hinged attic louvers. Perimeter guardrails surround a gabled roof structure with 2 chop-outs. This section includes a 2-story interior stair and a 2nd floor (12′ X 12′) live fire burn room. The ANNEX houses a second live fire burn room.
Photos may include options not included in standard features.
Video:
Building Dimensions
Residential:
21'-11" W x 35'-7" L x 24'-0" H
Annex:
21'-11" W x 14'-6" L x 10'-0" H
Land Requirements
Recommend .5 to .75 acres
More Information
Details
Technical Specifications (MS Word)
Download
View Elevation/Floor Plan (PDF)
View
Standard Features
Windows:
10 Single 3' x 4' Windows 1 Double 6' x 4' Window
Doors:
4 Single Doors 1 Double Door
Burn Rooms:
2
Floor to Floor Height:
10'0"
Stairs/Ladders:
Two-Story Interior Stair
Roof Surfaces:
Residential: Un-equal pitch gable