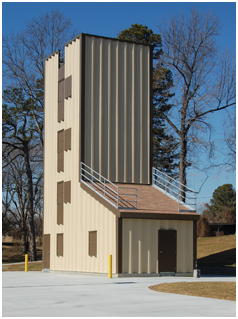 The WHP First Alarm – Four Story consists of a four-story tower measuring 15′-1″ X 18′-6″ X 44′-0″ (to top of parapet) attached to a single story annex measuring 15′-1″ x 14′-6″ x 10′-0″. This simulator allows specialized training scenarios for those firefighters serving in areas having multi-story buildings, while providing features required to meet NFPA 1001 training requirements. Standard features include 6 single windows, 3 single doors and a temperature monitoring system. The TOWER has an interior 4-story stair and a ladder from the 4th floor to a roof hatch. The Tower includes a parapet roof system and two rappelling anchors. The ANNEX houses a live fire burn room.
Photos may include options not included in standard features.
Video:
Building Dimensions
Tower:
15'1" x 18'6" x 44'0" (to top of parapet)
Annex:
15'1" x 14'6" x 10'0"
Land Requirements
Recommend .25 to .5 acres
More Information
Details
Technical Specifications (MS Word)
Download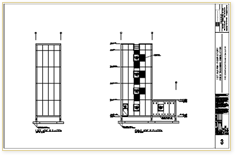 View Elevation/Floor Plan (PDF)
View
Standard Features
Windows:
6 Single 3' x 4' Windows
Doors:
3 Single Doors
Burn Rooms:
Annex Burn Room 15'1" x 14'6"
Floor to Floor Height:
10'0"
Stairs/Ladders:
Four-Story Interior Stair Vertical ladder with Bilco hatch
Rappel Anchors:
Two
Roof Surfaces:
Tower: Parapet Roof System